As the seasons progress into winter, Ed and I are always delighted to see flowers in bloom. This week we were at 6000 feet in the Catalina mountains. It was a beautiful day and the temperature was very comfortable. We went to Chihuahua Pine picnic area, where the Mexican Jays (Aphelocoma ultramarina) were keeping their eyes on the picnic tables hoping for scraps of food.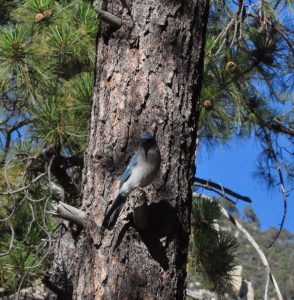 We walked up the stream bed, through the tunnel under the highway, and further into the Hitchcock Campground area. On the way we saw a number of Goldenrod plants in bloom (possibly Solidago missouriensis).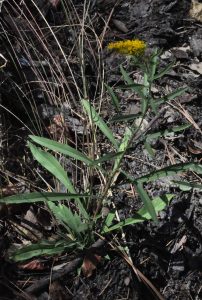 In the dry stream bed most of the Hummingbird Trumpet flowers (Epilobium canum) were gone, but we recognized the plants, and did see some of their spectacular flowers.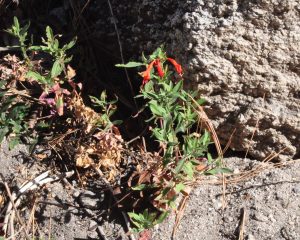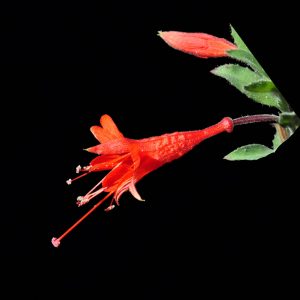 We could smell the presence of Mountain Marigold (Tagetes lemmoni), with its yellow flowers and orange centers. Most of them had finished blooming, but the fragrance is in the leaves and we were aware of them as we walked past whole clumps of them.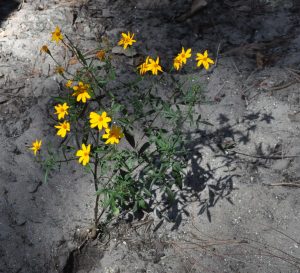 Just under the tunnel we saw the familiar Alligator Juniper tree (Juniperus deppeana), in a very unfamiliar shape. Note how the trunk is mostly smooth, with a strip of bark running up the left side. We wondered how the horizontal ridges had formed. There were needles, so the tree was still alive in spite of having lost so much of its bark.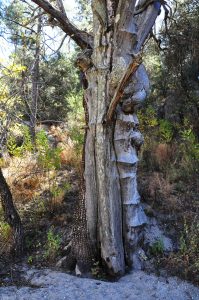 I continue to work on paintings for the upcoming show in March, 2018. This watercolor is  a view on a ridge looking North, with a circle of stones evidently used as a fire pit.