I had a wonderful time at the Tucson Festival of Books. I sold about 24 books and about 75 notecards. But the main joy was talking with friends new and old. It was especially fun showing people mock-ups of three new books I am working on:
1. Glorious Grasses (with Jim Verrier)
2. Small Wonders (tiny, nearly invisible flowers)
3. An illustrated guide to the Santa Catalina Mountains – using my paintings to illustrate various parts of the range.
Here is one of the paintings for the book. It is of Windy Point, 14 miles up the Hitchcock Highway, with a great view to the South and West, an ideal place to watch the sunset.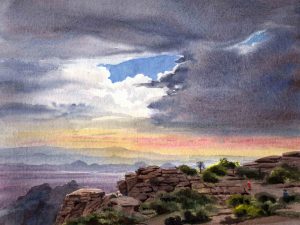 Recently I had the pleasure of doing a plant walk with Bruce Homer Smith, who has developed an excellent website where people can easily look up wildflowers growing in California. Here is a link to his site, which has more than ninety-five thousand pictures, about 4248 of them taken by me (marked with an FR). Since it has been such a dry winter, we did not see many plants in bloom, but had a lot to look at and enjoy in Molino Basin.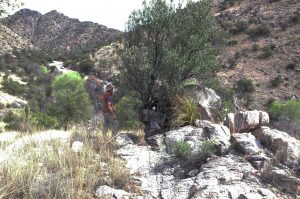 Here is his web site:
PlantID.net