We live in Arizona so we expect the unexpected, like Saguaros, Creosote, Ocotillo and a host of other plants blooming more than once a year. The books say that they are Spring bloomers. The plants say they will bloom when they feel like it, which apparently, is right now.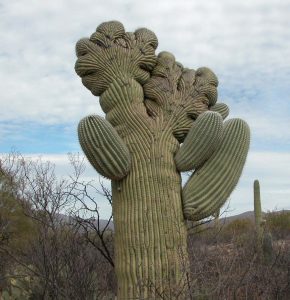 On Halloween I made a trip to Sabino Canyon. It was a beautiful sunny day. According to my own rain gauge, we have already had over twenty inches of rain since January 1. Compare that to the normal total of ten to twelve inches and you will see why some of the plants are confused. I looked up at a very tall saguaro. Toward the top it was crestate. This word refers to the fact that with some saguaros, the top, instead of being a column topped with a dome, fans out into many folds and ridges. Sometimes normal branches grow out of the crestate top (see my posting SEEN ON NATURE WALKS April 1, 2017).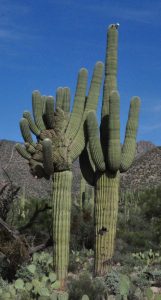 On this last day of October the one I saw not only had the crestate, and new branches emerging from it, but the top of the saguaro next to it was sporting a fresh new flower. Another had  flowers on a side arm.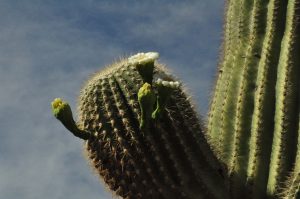 Not far away there were a number of creosote bushes (Larrea tridentata) in flower. Yesterday I saw two Ocotillos (Fouquieria splendens) with their bright red flowers at their tips. On a short plant walk Ed and I saw over thirty species of otherflowers in bloom, and this was early in November.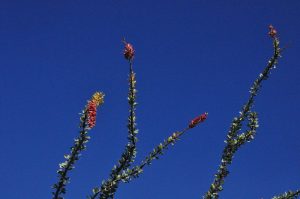 Whenever they bloom, these plants are always welcome, giving us a lift with their beauty.