Recently Dave, Lis and I went off the beaten path to climb a hill in the front range of the Catalina Mountains. On the way I saw a large patch of Plectritis (Plectritis ciliosa). This is one of those plants that is so  easily overlooked that it does not really have a common name. The plants are about six  inches high, with an inflorescence that is about the size of a marble with a cluster of small flowers twisted around the head. Its name is from a Greek word which means 'braided". I always enjoy seeing this little plant which is not included in most wildflower guides, (not even my own, which I plan to make up for this in a future book.) I managed to get some good close-up pictures, but failed to take a wider view, showing a collection of them in their habitat. I returned two days later to photograph a group of them in their habitat, but couldn't find a single one! A few days after that, Ed and I were exploring the plants in the Gordon Hirabayashi Camp Ground (formerly called Prison Camp), and found large patches of it.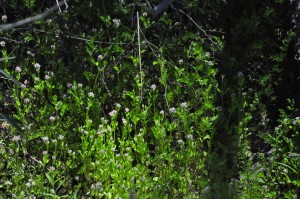 Looking down at a patch of Plectritis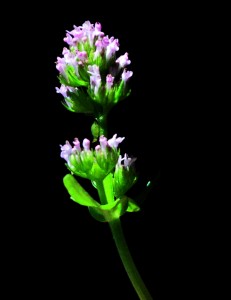 A double flower head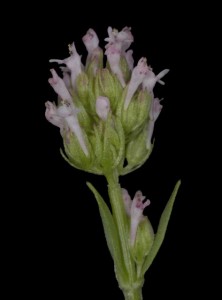 A closer look at the flower head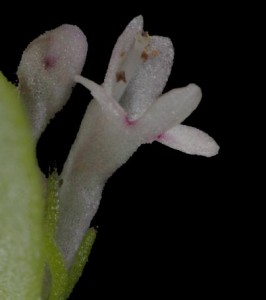 An individual flower – many are pinker than this one
On a different walk Dave and I found ourselves in Bear Canyon, resting in the shade by the stream. I was interested in studying and photographing a plant that I have seen many times but not really noticed. At first it looks like a grass, but it is very different. I believe it is Swamp carex (Carex senta), one of a very large family called Sedges. Many look like grasses, but are quite different. I do not fully understand the various parts, but I believe that the pale yellow top, like a bottle brush, contains the male flowers, and that the female flowers may be lower down on the plant with yellow tips.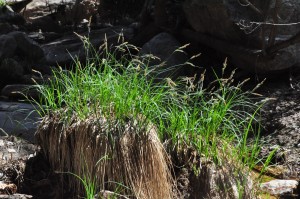 A patch of Swamp carex in the stream bed, with previous years' leaves forming a massive mat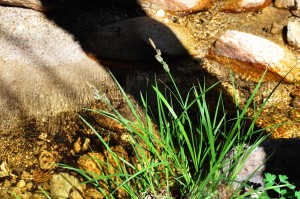 A look at a single plant with the inflorescence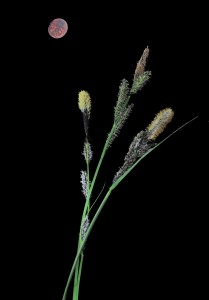 The penny gives scale to this picture of the flower parts of the Carex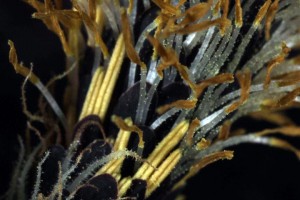 A close up – with all kinds of fascinating bits and pieces
Last Saturday, on a very pleasant nature walk with the Arizona Native Plant Society, we saw many flowers of interest. Walking back by the road we couldn't help noticing how much the ground around many of the prickly pear cactus were all dug up. Various theories were advanced until one person knew the answer. This is Skunk work. Evidently skunks love burrowing around the roots of the cactus to get grubs, beetles, and other goodies.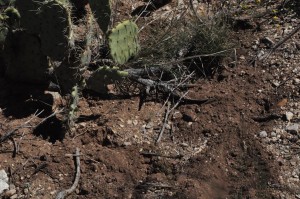 The ground around a Prickly pear  dug up by skunks
On recent walks I have come across two new flowers. One must be one of the chickweeds, (Cerastium), and the other looks like a petunia. Since this is in a camp site, I suspect that the petunia was planted by one of the campers or the camp director.  It is very pretty, but looks out of place in this mountain setting.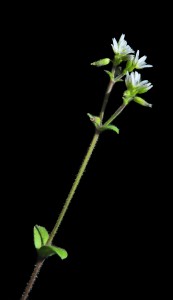 The mystery chickweed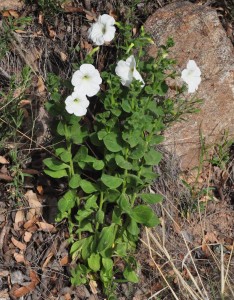 The Petunia (or whatever it is)