I apologize for the long gap between postings on this blog. Mostly it was due to a hernia operation that I had and complications after the surgery. I am now back on the trail and very happy to be visiting my friends, the flowers.
There is a composite flower that is not native to the Santa Catalinas Mountains, but I have seen it in two places in that range. It is called Mexican Hat, (Ratibida columnaris). I saw it years ago in Gordon Hirabayashi camp ground when it was still called Prison Camp. I have looked for it there every year for the last few years and came to the conclusion that the population has died out. The other place is along side of one of the residential roads in Summerhaven. There are lots of them near where Loma Linda Extension Road meets Ajo Avenue.  Until last week I had never seen them anywhere else on the mountain. Last Saturday I stopped at mile post 17 to get something out of my trunk and saw a collection of what looked like black flowers. On closer examination they proved to be another colony of Mexican Hat. Before driving off I decided to get out my loupe and take a closer look. Though I have known that it was a composite, meaning that what looks like a single flower is composed of many flowers, I had never looked to see what the individual flowers look like. I got out my super-close-up lens, and got these pictures.
The Mexican hat plant                                       A close-up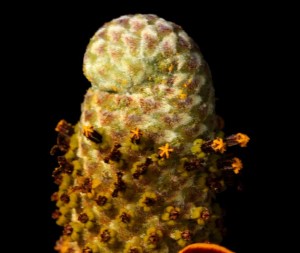 The "Hat" part has lots of individual flowers on it – below is what these individual flowers look like close-up

I used the same lens to take a closer look at the Mahogany Milkweed (Asclepias hypoleuca). This plant is fairly rare. This was taken on the Palisades Trail, less than a half a mile from the top of the trail.
A close up of the center of a Mahogany Milkweed flower – A cluster of flowers
Below is Fendler hawkweed, the last picture being a close-up view.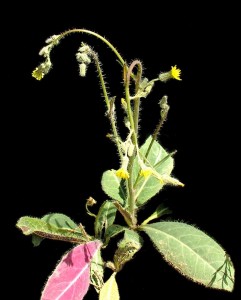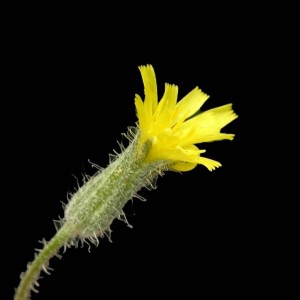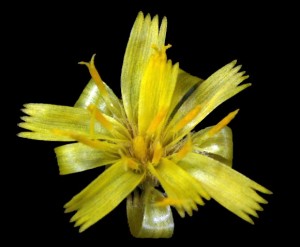 Yet another flower worth a closer look is Fendler Hawkweed (HieracIum fendleri). The plant can be six inches or even a foot high, with rather small flowers that open for a short time toward the middle of the day. This flower looks different close up.
The summer rains began in June this year, so we can expect lots and lots of flowers for the rest of the summer.