Since I have taken an interest in "invisible flowers" it made sense for me to go to go to a talk called: "Desert mistletoe: A misunderstood, but beneficial native plant" given by Kelsey Yule. This was presented to the Tucson Chapter of the Arizona Native Plant Society. The following Saturday Kelsey lead a walk to look at these fascinating plants. She talked about their life cycle, and how their sticky fruits are sometimes stuck on the branches of a desert tree, maybe by a bird. For a while we wondered where our leader had gone, and then she came back with a short stick of wood. On it there was a tiny lump. We had to get out our loupes to see what it was like. Fortunately my camera has good close-up power, so I was able to get a photograph. In it you see the grey lump of the seed, and a tiny red tube arching up and down into the branch. She explained that the tube was a haustorium, which is like a root, but is different enough to have its own name. She said it would take five years before the plant developed to the point where it could grow and produce flowers and fruit. She also explained that the fruit is edible, but so far I have not dared to taste one.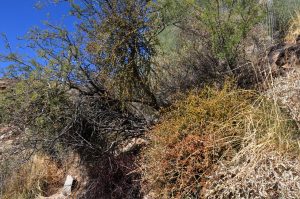 An Acacia with mistletoe in the foreground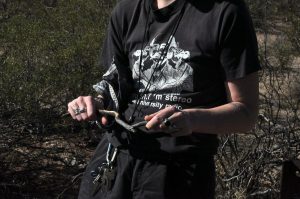 Kelsey with the stick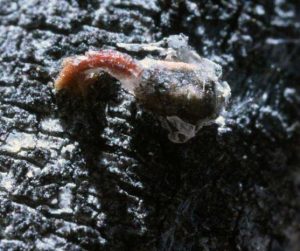 The seed with haustorium on a Mesquite branch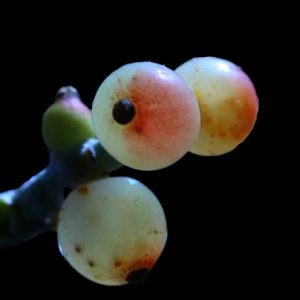 Mistletoe fruit
Our home was enlivened by the advent of granddaughter, Gillian, her husband Dave, and 3-year old Mae, and 9-month old Siena. As part of their time here we went to Agua Caliente Park in Tucson. The first thing that caught Dave's eye was a thin snake curled up on the path, surrounding a little whitish ball of fur. It was eating a mouse, and we were able to watch until it was just a fat lump in its slim body. Later we went to the butterfly garden where the white milkweed flowers were being visited by about a dozen Queen butterflies. Mae was thrilled to touch one of them.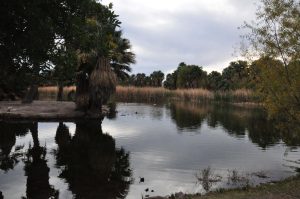 Agua Caliente park pond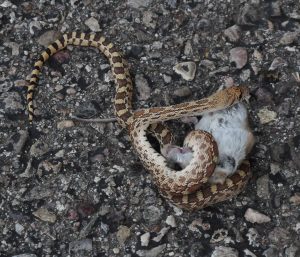 The snake holding a mouse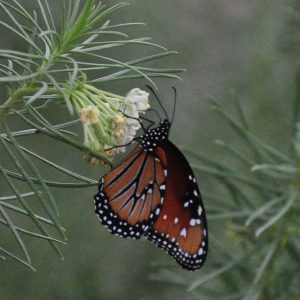 The Queen butterfly on a milkweed flower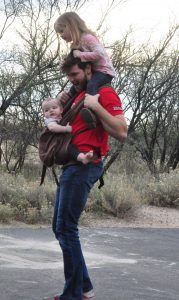 Dave with Mae and Siena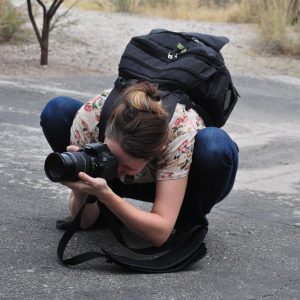 Gillian getting down to serious photography
It is November, and there are not many flowers, but the Desert Mistletoe plants are full of fruit, much to the delight of birds and other animal life.