Today Ed and I walked a short distance along the Oracle Ridge Trail. This time of year it is so loaded with wild flowers that in places you can hardly see the trail. We counted about thirty different species of plants, some loaded with flowers. We must have seen hundreds of thousands of blooms in about a quarter of a mile.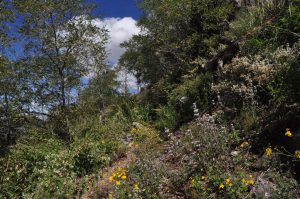 Because of my blood condition (pancytopenia) I am not able to hike very far up hills without sitting down to catch my breath. To help me, my daughter, Liz, gave me a small, lightweight stool, which I call my Portable Park Bench, or PPB. When I feel that I have reached some kind of limit, I place it on the trail, and sit down. My hiking poles give me the leverage I want to stand up again.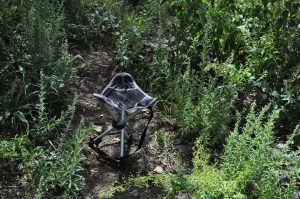 These rest stops are wonderful times for Ed and me to have conversations, or just enjoy being in the midst of such abundant and beautiful life.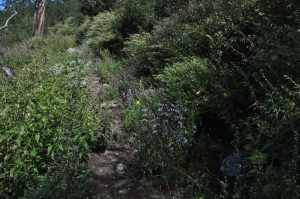 In the next nine days I am giving three talks about the Santa Catalina Mountain range. They are all free and open to the public, and I would love to have you there. This is the list:
Wednesday, Sept. 18: 6:30 pm,
"Tree Wonders – a look at some unusual aspects of well-known trees."
At Sunrise Chapel, 8421 E. Wrightstown Rd, Tucson.
Saturday, Sept. 21, 2:30 pm
"The Santa Catalina Mountains, a special treasure."
The talk will show photographs of well-known and little-known parts of this wonderful mountain range. It will be given at the Community Center in Summerhaven.
Thursday, Sept. 26, 2:30 pm
"Water Features of the Santa Catalina Mountains."
This talk will show pictures of different streams, waterfalls, lakes and other water features of the mountains.
It will be given at the Community Center in Summerhaven.