It was a cool day with rain in the forecast, but Ed and I drove up the mountain anyway. We parked at the Sunset Trail head, and walked a very short distance on the Bear Wallow trail. . Soon Ed spotted a dandelion in bloom. Admittedly it was small and looked as of its short life had been hard, but it was in bloom on November 19 at about 8000 feet. Soon after we saw another bloom. Like the dandelion this plant had flower and fruit both in evidence. I think it was Wootons Groundsel, even though that is really a spring and summer bloomer.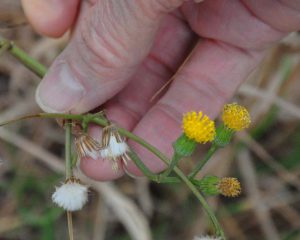 But our eyes were captured more by the trees than the flowers. The leaves of the New Mexico Locust had turned into a lovely brownish gray color, and had curled a little. The ones remaining on the trees were quite lovely, as were those lying on the ground or decorating a fir tree for Christmas. Then there were the willows along the creek. The little wooden bridge had enchanting patterns of golden willow and maple leaves.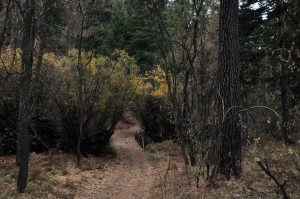 We went a short distance up the trail, and I found a rock covered with moss to use as a park bench, as Ed explored a little more of the area. He snapped this picture of me. We both agreed that nature, on that gray November day, was beautiful and enchanting in a very special way.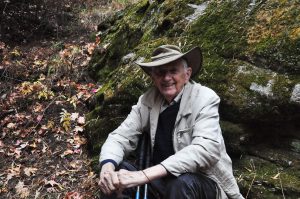 MY BOOKS
Days are shorter and evenings cooler as we enter the Fall season. It is a beautiful time in Arizona. There are not many flowers blooming high in the mountains, but in the valley there is a lot of color. For color a drive up the Catalina highway you can see the golden Aspens, and Maple trees in yellow, orange, red and yellow. If I could only get myself organized, now would be a good time to paint them.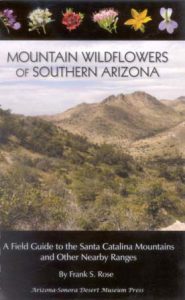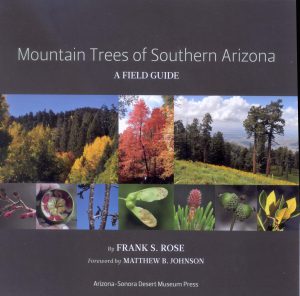 Ebook versions of my two books, Catalina Mountains: A Guide Book with Original Watercolors, and Small Wonders are available now. The Ebook version of the Catalina Mountains is $9.99, and the Small Wonders is $12.99. The only catch is that you have to have an iPhone or an iPad to enjoy them. To find them, just open the Books application on your iPad or iPhone and search for the titles. Because the books have so many illustrations they are not compatible with Amazon's ebook guidelines, so you can only get them on Apple Books.
Hard copies of all my books are available on Amazon.com. Just type Frank S. Rose under "author" and you will see them.