This entry in my blog was written by my wife, Louise, telling the story of a recent trip up the mountain to see the fall colors.
"On Friday we decided to drive up the Catalina Mountains to see how the colored leaves were doing. Several earlier trips had whetted the appetite and seemed to promise more and better to come. With a free morning ahead of us, we climbed into the car and headed up the mountain.
We saw some beautiful trees with vivid yellow leaves near the bottom levels of the mountain, then miles of lovely evergreens and other trees.
As we approached Bear Wallow, at mile post 22, there were more and more trees in color, almost all of them shades of yellow.
We parked and walked down into the Wallow, rejoicing at the vividness and variety of the yellows. One tree in particular stopped us in our tracks with it high-impact golden color, which seemed to have a life of its own. Frank was taking numerous photographs. There were a good number of fellow-color-seekers on the trail, all ages, carrying children, cameras and binoculars.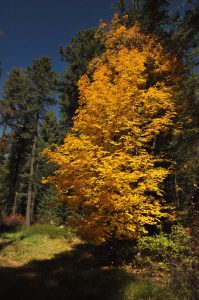 Half way along we came to what our hearts were looking for – a bright red maple, a burst of flaming glory in the midst of the yellow and green. A whole flock of people were gathered in the clearing near the tree. When you looked up at the top of the tallest branches, the contrast between the glowing red of the leaves and the gorgeous blue of the sky was striking.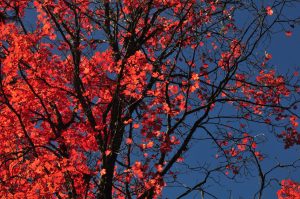 A smiling young woman kindly asked if we would like her to take our picture in front of this spectacular tree. We happily posed for her and she clicked this picture.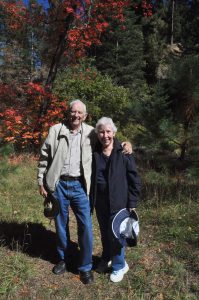 Along came a group of familiar hikers, calling out Frank's name and waving copies of his book.
We feel fully blessed to live so near to a heavenly place like Mt. Lemmon where we can go for beauty, companionship and nature any day of the week. What a treat to keep us centered and balanced, with a taste of autumn thrown in." Louise B. Rose
Thanks, Louise