It has been almost three months since we had rain in the Tucson valley, and there is no rain in the seven-day forecast. A couple of weeks ago snow fell in the Catalina Mountains, and my friend and I took a brief walk in the snow to say we did but it did not rain in our part of the valley.
The summer rains, called the monsoons, are now given official starting and ending points – June 15 to September 30. I looked in my personal rain log, and saw that we had no rain at all in the month of June 2017. July was good, with 11 days of precipitation. There were five more in August, and just three very light rainfalls in September. The last was September 9. Between then and the end of the calendar year we had only one rain fall that was more than a tenth of an inch (December 17). This lack of winter rain meant that we had very few Spring flowers in 2018.
It is no surprise, then, that on recent walks, the ground seems incurably dry. And yet there are flowers, and some of them look as healthy as I have ever seen them. It is just that there are not as many as usual. The air is clean, the gentle breeze refreshing, and it feels good just to be alive in these pine forests. Here are some that we saw in flower.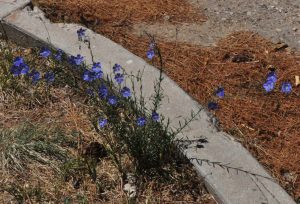 Blue Flax (Linum Lewisii)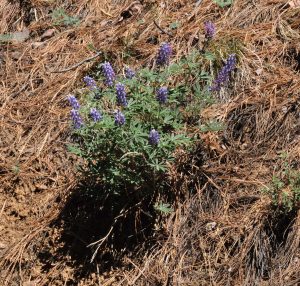 Palmer Lupine (Lupinus palmeri)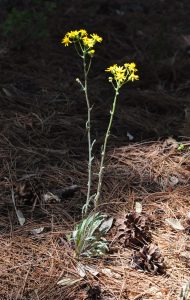 New Mexico Groundsel (Packera neomexicana)