I had agreed to give a talk at the "Meet the Monument" event, put on by the Friends of Ironwood Forest on Saturday, November 16.  This is an area that has appealed to me. I had often looked at Ragged Top mountain driving along I 10, hoping one day to explore this part of southern Arizona. The route took me along Silverbell Road which turns into a dirt road for over five miles before arriving at the Monument. I did not see another car for miles and wondered if I would have only three or four people for my talk. This thought was immediately dispelled when I turned the corner, and there, stretching for well over a quarter of a mile, were cars parked along the roadside. People were milling around, some about to go on a plant walk with Ries Lindley from the Native Plant Society, others going on photography walks, some visiting the various booths set up or going to see the Yaqui Deer Dancers. We were warmly greeted by Lahsha Brown, and other volunteers.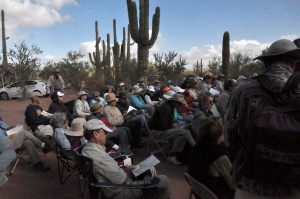 I was the lead off speaker with about 40 people attending my talk. I talked about trees in general and then about Ironwood and other trees of the Sonoran Desert. A number of other talks  followed. There were lectures on plants, bighorn sheep, archeology, herpetology, and other topics. I learned a lot, including the suggestion that this part of the Sonoran Desert could better support life than the uplands of Arizona, because of the variety of plants many of which provided food and other useful materials. They also had extensive irrigation systems. Today there is a healthy population of bighorn sheep.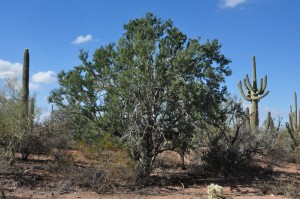 Ironwood tree flanked by saguaros in Ironwood National Monument
The crowd kept on growing until an estimated 300 people were at the event enjoying a gorgeous day and one of the most interesting parts of Arizona. As I left I knew that it would not be long before I returned to take more photographs of the views, vegetation and wildlife of this fascinating area.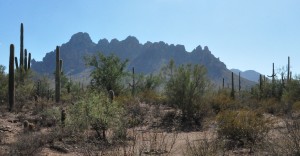 Ragged Top with its distinctive profile