Yesterday Dave and I felt we needed to get out in the fresh air. I had been cooped up with a cold for over a week, and Dave had been busy. We both needed the renewal that we always find in the mountains.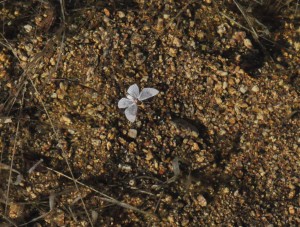 Looking straight down into a pond of very clear water with a white butterfly floating on the top
We did not have much time, so we drove just over seven miles up the mountain road and headed toward Bug Spring. Then we looked up at the peak straight ahead of us and felt it calling. A deer trail took us to the top. We were just about a mile above sea-level, commanding a beautiful view of the valley. We could see part of Tucson, and distant mountain ranges. The temperature was mild. It was the middle of January, so we did not expect to see any flowers, but there they were, smiling bravely at us. We even found a beautiful pool in the stream bed, complete with a floating white butterfly. We saw a few live butterflies and even heard the rush of a humming bird, but never saw it.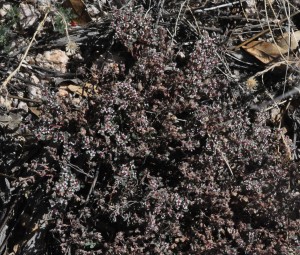 Looking down at an "invisible" flower – possibly Spurge – euphorbia pediculifera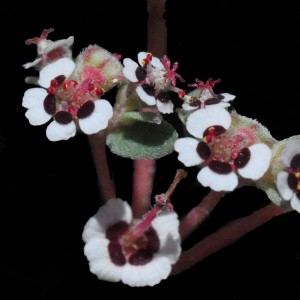 A close up of the spurge showing their gorgeous flowers

By the time we reached home we had been gone only a few hours, but felt as refreshed as if we had been away for a week.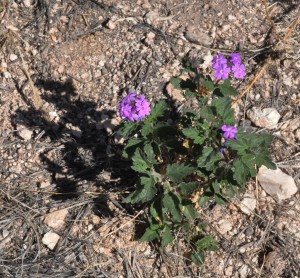 Goodding verbena – glandularia gooddingii, in full bloom on January 20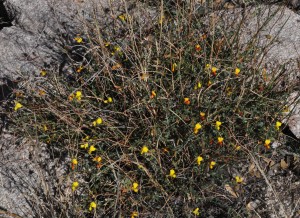 One of the lotus plants in full and glorious bloom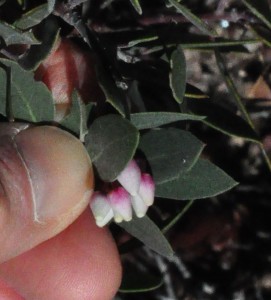 The manzanita shrubs are starting to bloom, with their white bell-like flowers, tinged with red