Thanks to our alert friend David Hollombe, we know that the mystery flower noted on January 31, was not a flower at all, but a discoloration created by the fungus Puccinia monoica. He suggested it might be on the plant: Boechera perennans. This week I confirmed his suggestion. The infected plant is in a hillside with a number of boechera growing near it, and though the upper leaves on the infected plant are very different, the lower ones match the other plants near by. Boechera, or as it used to be called, Arabis, is called Rock-cress, and is a perennial (which is what perenanns means). It can have pink and white flowers on the same flowering stalk as in the second picture.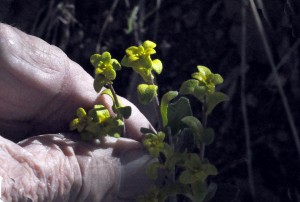 Holding the top of the infected plant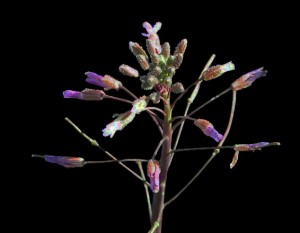 This is what the top normally looks like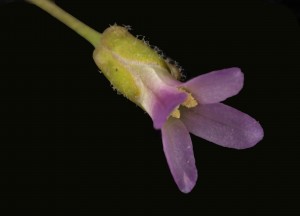 Some flowers are pink
On the same inflorescence, some are white
Later that day my wife and I saw another plant with both pink and white versions of its flowers, the tiny Slender phlox (Microsteris gracilis.) It blooms very early in the year, in this case February, and is only an inch or so high when it starts to bloom. This is a very sweet little flower.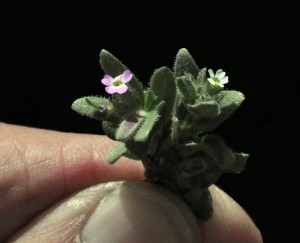 Two of the Slender phlox plants, showing the pink and white versions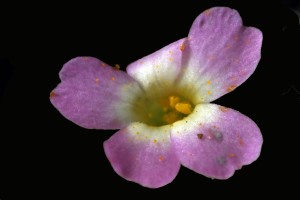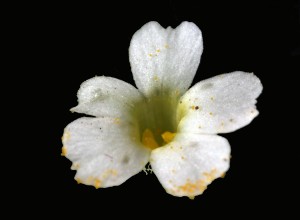 The pink close up
And the white
Today I was hiking with Ed and we saw many examples of a lomatium plant. I have known this plant for years, and so far my botany friends have been unable to identify it. The flowers are similar to Lomatium nevadense, but the foliage is different, and the plant grows much larger (up to a foot high compared to only a few inches for L. nevadense). With my close-up camera I was able to see what the individual flowers of this plant in the carrot family look like. My flower books do not list it. Wikipedia notes that there are 75 species of lomatiums in the world, and it has article on 51 of them. None of them seemed to match this plant. It seems that most of the plants in this genus have yellow flowers. These are white. None of the ones I saw had long thin  leaves. Any suggestions?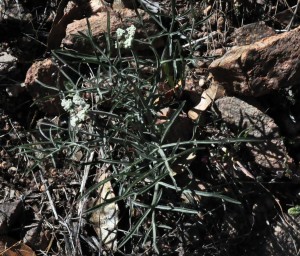 Looking down at the mystery Lomatium on the trail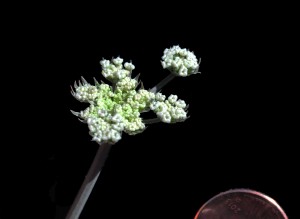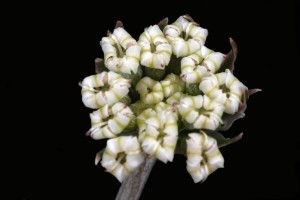 A flower cluster on the Lomatium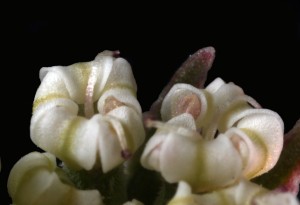 Looking more closely at the cluster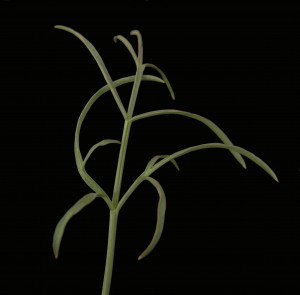 A close up of individual flowers in the cluster
The leaves of the mystery lomatium

I am excited about speaking to the Cochise chapter of the Arizona Native Plant Society in Sierra Vista tomorrow, and as one of thirteen speakers at the Botany Conference coming up this Saturday at the Arizona Sonoran Desert Museum. Both talks will be about taking a closer look, but the species shown will be different (except for one mystery plant.)