On November 26, Ed and I took a leisurely walk in Saguaro National Park East. Even this late in the year there were a number of plants in full and glorious bloom, notably the Paper Flower.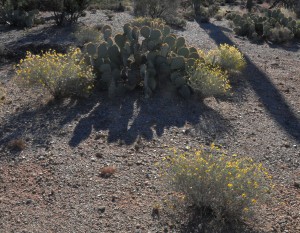 Paper flowers (Psilostrophe cooperi) with a prickly pear in the center.
Our attention was drawn more to the cactuses, especially the dominant cactus of the Sonoran Desert, the Saguaro.  With various losses and new growths, some of them take on amazing forms.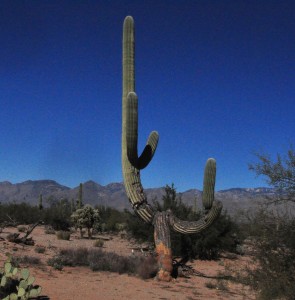 The odd shaped saguaro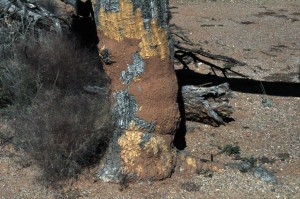 The base of the odd fellow. The brown, I believe, is made by termites.
When they have completed their life cycle, they shed their thick green skin, and the mushy interior, to reveal the long, thin wooden ribs that form a skeleton.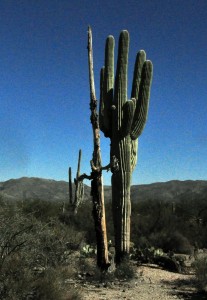 The ribs of the skeleton also extend into the arms
Normally a saguaro does not grow arms until it is about sixty years old. We saw a small one (that could have been twenty years old), with a branch, and wondered about it. Perhaps it grew an arm due to an injury. Then we saw a short one with two symmetrical arms at the top, like bunny ears.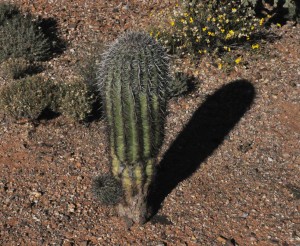 The new arm is at the base on the left. What looks like an arm on the right is a small cactus just beyond it.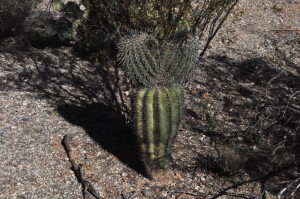 Our special interest was in the nursery plants that support Saguaros in their very vulnerable early years. For some reason we had not until then, paid much attention to what particular plants provide shade and shelter for the saguaro seedlings. On this short walk we identified six different species, some of which were quite a surprise to us.
Two saguaros nursed by a prickly pear
On the left nursed by creosote, on the right by a cholla
Outgrowing the nurse plant, in this case Mexican crucillo (Condalia warnockii)
A fairly large group under a mesquite tree
One saguaro growing under a Paloverde. Note how the central trunk broke off, and a large arm extends to the right.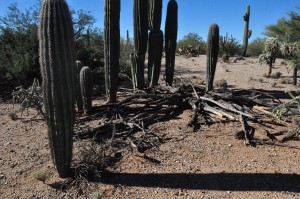 Then we came across a semicircle of huge saguaros. Lying at the center of the circle was a fallen Paloverde tree, its branches extending in all directions from the center. The saguaros looked as if they were standing at attention to honor their fallen mother.
Almost as far as the eye could see saguaros towered above the other vegetation. What a remarkable plant. What a rich desert!