I  have been hiking the Catalina Mountains for fourteen years looking for wildflowers. And today, we came across three I had never seen before! They were all at the top of the Aspen Loop Trail where it ends at all the towers that surround the top of the ski lift. One looked very much like Cosmos parviflora (meaning with "the cosmos with small flowers"), but the flower was at least four times as big as the usual wild cosmos, and it was white rather than pink. We wondered if it escaped from someone's garden, unlikely here at 9000′, but pollen does get carried on the wind.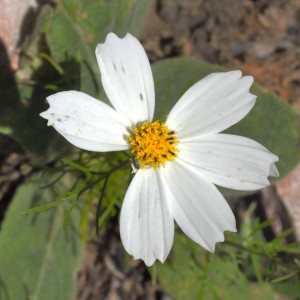 Near by were some plants that seemed familiar, yet new. We decided they must belong to the Amaranth family. There were lots of them in a fairly large patch of ground (about 100 square feet).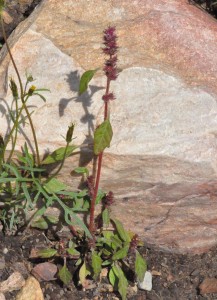 The third mystery looked something like the white phlox that grows in Molino Basin (Phlox tenuifolia), but clearly it is not the same species. Maybe it is not even a phlox.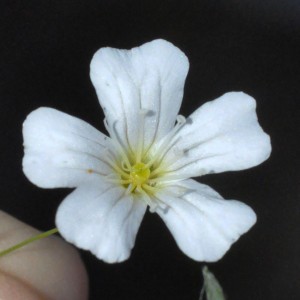 Anyone want to hazard a guess as to what we found?
At the end of the plant walk I decided to try once more to photograph a little mystery plant that Ed and I saw eight days ago. We were walking along the Kellogg Mountain trail when we spotted first one, then, in the space of about a hundred yards, many more of this small beauty with tiny white flowers.  I did not have my macro lens with me, so I made mental note of where the plants lived with the idea of coming back the next day with better equipment.
The following morning I drove to Incinerator Ridge, parked the car, and walked along the trail toward our little mystery friend. It took only about ten minutes to reach the plants, and then it took only a few seconds to realize that their flowers had not yet opened. It was 8:30 in the morning.
That was Thursday. I had to wait until the following Monday afternoon to try again. I got on the trail fairly late, since it had been raining heavily in the morning. This time I arrived at the plants only to find that their flowers had closed for the day.
Today, as I said, I decided to try once more. On the way down the mountain I drove to Incinerator ridge, hiked up the trail and this time found them in full and glorious bloom! Now we have a little more to go on in trying to identify this elusive plant. Here are the pictures. Any help with this one?