Day after day the weather forecast had said that there was zero chance of rain in the next few days. And then the rains came. It has already rained for three days and now the forecast shows possibility of rain (if only 10% or 20%) for several days in the future. What a change this brings to the desert and the mountains! It also lifts our spirits.
Yesterday Steve and I headed for the mountains, undaunted by the forecast. As we drove north on Houghton Road, we saw something neither of us had ever noticed before. It was a cloud shaped like a rolled-up white blanket, stretching for almost twenty miles along the front range of the Catalina Mountains. You can see a portion of it in the center of this picture.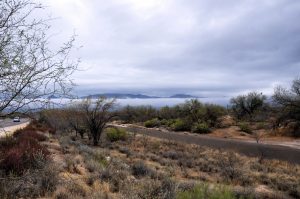 We drove up the highway and sure enough were soon in the midst of the blanket. We emerged after about three miles at Molino Canyon Vista. We parked the car and caught the view looking back at the cloud, as seen in this photograph.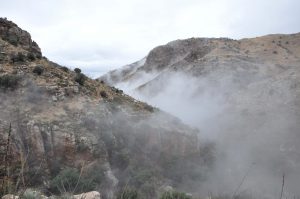 We then walked along the path and turned around to see the little waterfall running at full tilt. I call this "Hidden Falls" because almost as soon as the water goes over the lip, it drops behind a large boulder, splashing into a pool at the bottom. The falls have been bone dry for about five months, so this was special.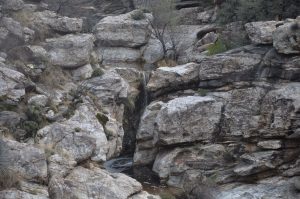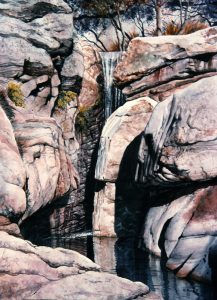 Here is I one of the watercolors I have painted of this interesting little cascade.
In two weeks, March 3, our son Owen and I will be at the Contreras Gallery (110 E. 6th St., Tucson)  from 6 to 9 pm, for an opening of a show of our art work. The show runs the month of March, and the gallery is open Tuesday through Saturday from 10:00 am.- 3:30 pm.
We are only three weeks away from the Tucson Festival of Books. I will be sharing a booth with the Arizona Spiritual Growth Foundation, and will be autographing five different books (Mountain Wildflowers, Mountain Trees, More Wildflowers, The Art of Effective Preaching and a book I illustrated, Bo and the Fly-away Kite.) I will also have a dummy copy of part of a book I am currently working on, which is a guide to the Santa Catalina mountains with my watercolors as illustrations.
Look for me at the Festival of Books at the University of Arizona Campus  – March 10, 11 booth 254. And enjoy the change in the weather.