We are getting toward the middle of February, and the rains have not come. Every day I look in the newspaper for the four-day forecast, only to find zero chance of precipitation in the near future. This is fine for many things. People are enjoying the mild Winter weather, there are no weeds in our yard, the sun is shining, the birds are singing, but the flowers are few and far between.
In this part of Arizona the spectacular shows of Spring flowers come only after Winter rains. Last December we had just over half an inch of rain. In January about a fifth of an inch, and nothing so far in February.
On a recent walk in Molino Basin I did see the Cottonwood trees in bloom, plus a tiny cluster of flowers on the Gumhead (Gymnosperma glutinosum), and a barely visible Biscuit Root (Lomatium nevadense) just about one inch high.  Normally I would expect to see as many as two dozen species in bloom this time of the year.
So now I hike to get photographs which become the basis for my paintings. I am getting ready for a show at the Contreras gallery in Tucson in March (opening reception March 3), so I am content, though I do like to have clouds in many of the paintings, and these are very scarce.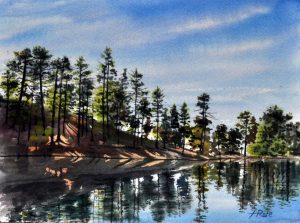 Rose Canyon Lake in the Catalina Mountains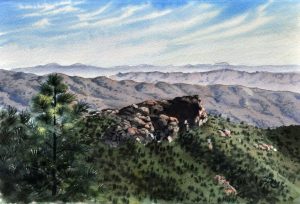 Lizard Rock