September 20, 2013
About a week ago, I wrote about finding three mystery plants on the top of Mt. Lemmon, and asked for help. My call was answered by my botanical adviser, Joan. Here is what she suggests:
1 – The phlox-like plant is probably  Showy baby's breath, Gypsophila elegans, a plant not listed as growing in Arizona. There is quite a little collection of these at the top of the Aspen trail.
2 – The Amaranth is likely careless weed, amaranthus palmeri. Amaranth seeds are an important food source. This plant is not new to the mountain. The surprising thing is to find it blooming at 9000 feet. Its normal range is 3100′-4800′.
3 – And as for the cosmos, I went back and took a picture of the native cosmos parviflora, against the new one, to give some idea of the relative appearance, size and color. This time I found two more plants near the first one we saw.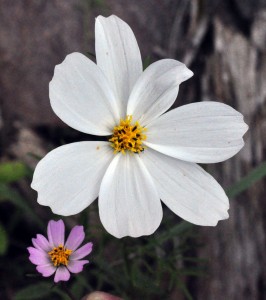 And then another mystery was solved. Two years ago, in this same area, we found Livermore stickseed, in the Borage family. Its botanical name is hackelia pinetorum, a shrubby plant with tiny blue flowers.  Several times this summer I have gone looking for the plant. It was no longer growing in the area where I originally saw it in 2011. This week we walked a little farther and Ed spotted it along the side of the trail. There was just one plant. As you can see the flowers are scarcely visible.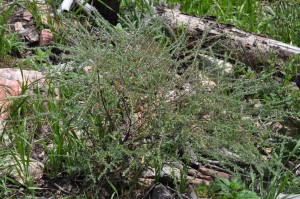 This is one of the flowers greatly enlarged. It is a pretty little blue flower with a yellow and orange center.