My old friend JB (Joe Billings) called and suggested we do a nature walk together. I first met Joe many years ago when he stopped at Sunrise Chapel, the Church where I was pastor, and asked if he could trade one of our white columnar cactus for a red species. Now, some twenty years later, his donated cactus has multiplied and we regularly enjoy the wonderful display of gorgeous red flowers a couple of times a year.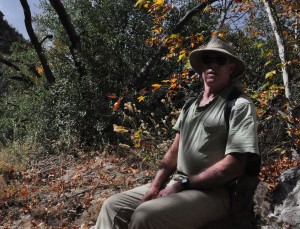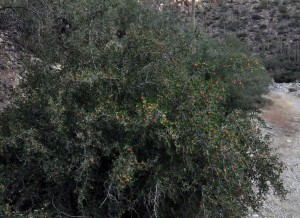 JB at Bug Spring
Desert Hackberry
Yesterday was one of those beautiful southern Arizona days, blue sky with light clouds, in the seventies. JB and I stopped at the first hairpin turn on the Catalina Highway, noted with concern how Fountain Grass (Pennisetum setaceum) has taken over the stream bed, saw some Desert Hackberry shrubs (Celtis pallida) loaded with fruit, which we tasted and enjoyed.
Then we drove up to Gordon Hirayabashi Camp (formerly called Prison Camp), to hike up to Bug Spring, the water source for the camp that was there from the thirties until its closure in 1973.  This is an unmarked trail that follows a stream bed in a very lush environment. JB specializes in Monarchs, having tagged thousands of them in the last seven years, so we looked out for butterflies, and saw only a few. We did see some flowers in bloom – Gumhead (Gymnosperma glutinosa), Wire lettuce, (Stephanomeria pauciflora), a few hardy Slender golden weed (Xanthisma gracile), and Hummingbird trumpet with its beautiful masses of red flowers (Epilobium canum).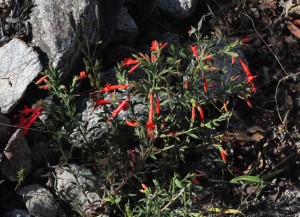 Hummingbird trumpet
Since I am now into grasses, we took a special interest in them. The hillsides were covered with them, almost all going to seed. There were masses of Cane beardgrass (Bothriochloa barbinodis) with its fluffy white heads containing seeds that smell like blueberries, and one with a very similar look: Arizona cottontop (Digitaria californica) that JB introduced me to.  
Cane beardgrass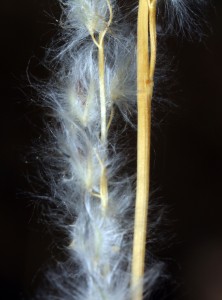 Arizona cottontop
On the way home we went to the offices of Tucson Lifestyle, and picked up copies of the current issue, since it includes articles about philanthropists by our son Owen (pages 6 to 12 of the Charity Register section). Well done, Owen.