I recently visited Desert Survivors Nursery (1020 W. Starr Pass in Tucson) where Jim Verrier is Nursery Director. He is the brave soul who invited me to work on a book of grasses with him. When I got there he pointed out Bamboo Muhly (Muhlenbergia dumosa).  I was able to photograph the whole plant (it is quite large), and then zoom in on it to show more details as in these photographs. Two days later he and I did a plant walk in Sabino Canyon. Recent rain has brought a new crop of seedlings, and we saw about a dozen grasses coming into flower.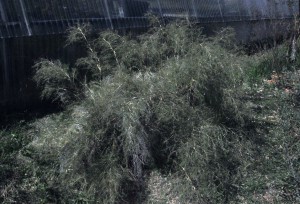 A clump of Bamboo Muhly at Desert Survivors Nursery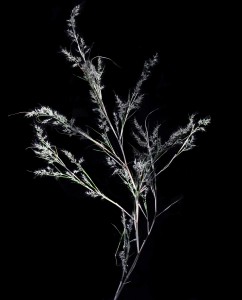 A branch of Bamboo Muhly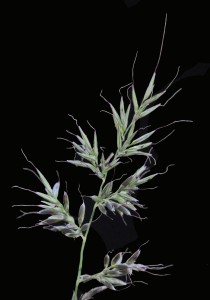 Zooming in to see more detail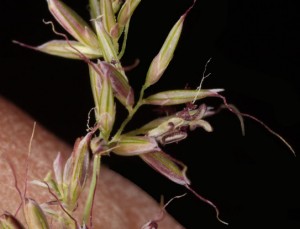 The pink is my finger. There are flowers in this picture. Can you spot them?
We also walked along Sabino Creek with the water rushing by and nurturing all kinds of interesting aquatic plants.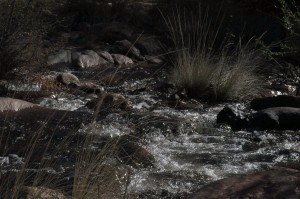 Sabino Creek with a clump of Deer grass (Muhlenbergia rigens)
On the way back we saw some Natal grass (Melinis repens) that I have photographed before, but this time I was able to get an especially good close-up of the flowers.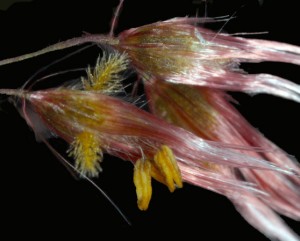 Natal grass flowers. The feathery ones are female, and the two yellow ones are male.
Two nights ago our son, Owen, and I were guest speakers at the Friends of Western Art meeting. Owen began with a humorous and challenging talk about how watercolors are better than oils. The fact that we were in a room richly equipped with excellent oil paintings made his remarks seem especially daring. I talked about how I got into painting and, much later, into nature photography. Our talks seemed to have been very well received and we thoroughly enjoyed the company of friends new and old.
The next big event for me is the Tucson Festival of Books where I will be spending time in four different booths. Since we had a good rain a few days ago there will be new life to enjoy in the Catalina Mountains.