When I wrote my last blog I thought that the next big event for me was the Tucson Festival of Books. That will happen this coming week end. In the meanwhile, two other big events have intervened.
ONE
Jim Avramis sent an e-mail on Friday inviting me to be a co-leader of a hike the very next day. It turned out that I was free, and had even been thinking of going on the hike which had been advertised long ago. It was to Ironwood National Monument where I gave a talk last November 16.
About 60 people gathered in the parking lot at Marana Airport as Lahsha Brown welcomed us and gave us our marching orders. There were three hiking groups. Mine was led by Jim Avramis, and Gary Borax. I was there to share some knowledge of the plants of the region.
We car pooled to the Monument, ending up traveling along narrow lanes lined with thorny shrubs and trees scraping the sides of the vehicle  "Desert pin-striping it" as one hiker said.
We parked on the flanks of the mountain range and made our way up the slope to the saddle between Ragged Top and Walcott peak. Ragged Top has a distinct jagged outline, and is home to a herd of big-horn sheep. It was lambing time for the sheep, so we were told to avoid Ragged Top, and circumnavigate Walcott peak. Eighteen of us made the three-mile journey, crossing washes, making our way up the slope to the saddle, and going around the mountain back to the cars. We noticed thousands of  tiny wild-flower seedlings too small to recognize. Then we saw poppies, heliotrope, brittlebush, and other flowers. I met, for the first time, Chuparosa (Justicia Californica), a beautiful plant with red tubular flowers, also called Hummingbird bush and beloperone. It was a gorgeous day, and there was much to enjoy.
Getting back to our starting point at the airfield, I handed out my flower posters, apologizing for the fact that I did not have enough for all of the people in our party.
TWO
The other big event was a trip to Sedona with my wife, Louise, and granddaughter, Kayla. More about that next blog.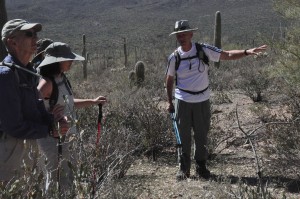 Jim giving us directions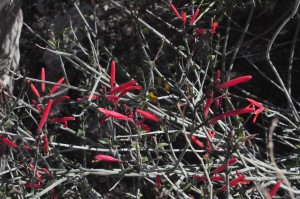 Chuparosa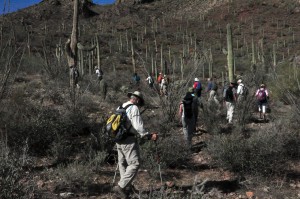 Making our way to Walcott saddle
Some of our group at the base of Walcott peak