The eastern part of the Santa Catalina mountains near Tucson has had over 14 inches of rain since the beginning of June. This is perfect weather for the many fungi that grow in the forest. Today we came across quite a few of them, the most spectacular being this shelf fungus – extending from the base of the tree as many as 8 inches. I have read that som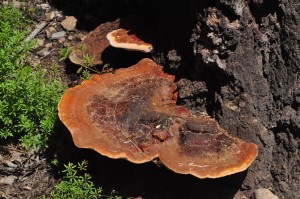 e shelf fungus are edible, and I wonder if this is one of them.
A week ago we saw a beautiful ink cap fungus (Coprinopsis atramentaria), one that is definitely edible but is dangerous if mixed with alcohol. I have observed how these beauties, as they age, simply melt into an inky-black pool.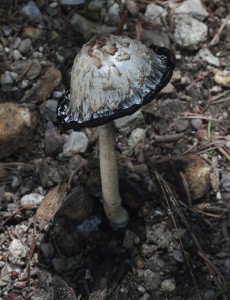 On one of my hikes I noticed a rock about 5 inches across. Taking a closer look I realized that it was being lifted off the ground by a mushroom!