INVISIBLE FLOWERS
In 2011 the Arizona Sonoran Desert Museum published my book: "Mountain Wildflowers of Southern Arizona" and a year later, "Mountain Trees of Southern Arizona."  Many people have thanked me for the two publications and have wondered what my next book will be. This had been on my mind some time when I attended a meeting of the Arizona Native Plant Society (AZNPS), and heard a fascinating talk on bees. The author, Stephen Buchmann, had wonderful pictures, some of them taken at very close range. I immediately began to wonder what kind of camera could take such fascinating close-ups. The author mentioned that Jillian Cowles, a friend of mine, had taken some of the pictures. She was at the meeting. When the talk was over I went to her and found it what kind of camera and lens she was using. She not only gave me all the details, but after I had bought the camera, lens and flash, took me on a field trip to show how it worked. This has led me to my current project – photographing "invisible flowers."
People ask, "How can you find invisible flowers?" Well, they are not really invisible, of course. The plants can be seen with the naked eye. I did have the experience of sending my daughter to find one species (Drymaria molluginea) near a rocky outcropping on the Box Camp trail, and she failed. Later on the trail we came across another colony, and I said: "There they are!" Later we returned to the outcrop, and it was only after she knew what to look for that she found them.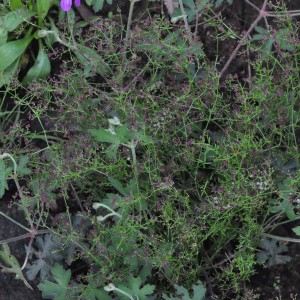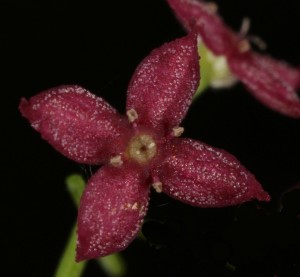 Some of the "invisible" flowers are on very large plants. With the naked eye it is hard to know if they are in bloom. It is only with a loupe or binoculars that the average person can see the flower.
In this category of "invisible flowers' I include flowers where the whole inflorescence is clearly visible, but the individual flowers in it are not.  I plan to show pictures of these rarely seen treasures of the plant world.
Let's start today with one of the many bedstraws on the mountain, Wright's bedstraw (Galium wrightii). The plant has very small, elegant wine-red flowers. From a distance you can hardly tell whether the plant is in bloom or not, but the macro lens brings you into an appreciation of its beauty.