It was a very windy day, so Ed and I were looking for a place to hike that was somewhat sheltered. We found it in Cienega Creek, a wild-life preserve. We had to make reservations, but that turned out to be very easy.
After parking the car we descended the trail to the creek bed. We met only one person that day, and he was a naturalist friend, Joe. We stopped to chat with him and walked together for a while. Joe spotted an ancient artifact on the trail which we examined, and then carefully put back in place.
The creek bed was dry, but after we turned north for a short distance, we found a stream. On either side there were twenty-foot cliffs, so the wind was gentle and the air warm.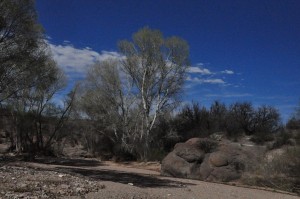 The creek supports a large population of trees: giant cottonwoods, ash, mesquite, willows and other trees. Where the creek was fairly wide, and thus moving slowly, the male flowers that had fallen from the cottonwoods covered the surface, turning it gold.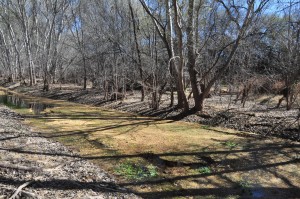 There is water under this carpet of gold flowers from the Cottonwoods overhead
We looked upstream and saw the point where the water was coming out of the ground. Beyond it was just sand. This is fairly common in these western washes. The water may be running year-round underground, surfacing here and there, only to descend again.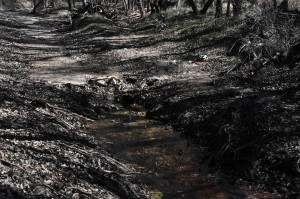 In the top half of the picture there is just sand. In the middle you can see where the water starts flowing, some of it covered in cottonwood flowers
Another stretch was lined with the bright green foliage of yellow monkey flowers, a plant with blue flowers which we did not identify, and possibly some water cress.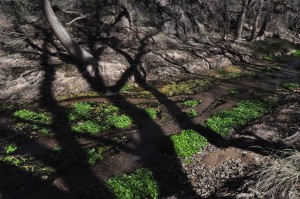 The creek bordered by aquatic plants, with shadows of cottonwood trees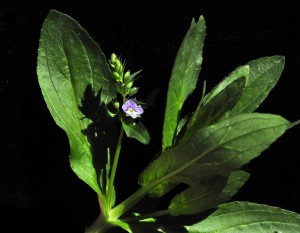 Just a few of these plants with blue flowers were blooming
Ed was able to identify all kinds of birds that were flitting from branch to branch.
The surrounding cliffs were carved by water. We especially noticed a mesquite tree that had been deeply undercut. We wondered how it could survive living life on the edge like that.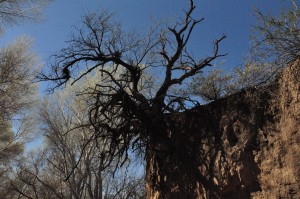 There were signs of high water in canyon, including this mass of tree trunks and branches. This creek must be impossible to explore in high water, and a section of it is part of the Arizona Trail that runs from Mexico to Utah, over 800 miles.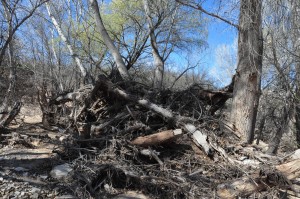 A six foot high pile of debris from floods in the canyon

We made our way back up the hill to the car park, driven by a steady wind at our backs. This was one of those short and sweet nature walks.