Ed and I were hiking up the trail and had stopped to look at some flowers. A couple came down the trail towards us, evidently having gone over five miles of rough terrain. They asked us if we knew any of the flowers. This led to a pleasant botany lesson. The man looked at me and asked how old I was. I said: "Eighty-seven". We then talked a little more and finally I couldn't stand the suspense any more. "And how old are you?"
"We are both ninety" he said with a great smile. The two of them looked to be in their sixties. I felt a little ashamed. Ed, who is younger than I am, did not even admit to his age. After some awkwardness I asked him the secret of his longevity. "I haven't died yet" was his full explanation.
Six times in the last eleven days we have explored this trail (Babat Do'ag in the Catalina Mountains) and every time we have seen new flowers in bloom. On the first trip, February 18, we saw about 30 species. Today we saw over 50.  Perhaps the most interesting was the Broom rape (Orobanche), a plant that lives by drawing nourishment from the roots of other plants. It is not green at all, does not have chlorophyll, and is incapable of making food from the energy of the sun. On one trip we saw one fully grown one, with four near by just beginning to pop their heads through the soil. The next trip we found another near by. Today Jim and I saw all of those, and more than a dozen more on the Soldier Trail, just a couple of miles further down the mountain.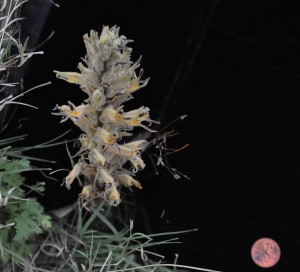 The Orobanche – the penny gives an idea of size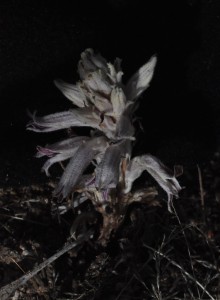 Another smaller Orobanche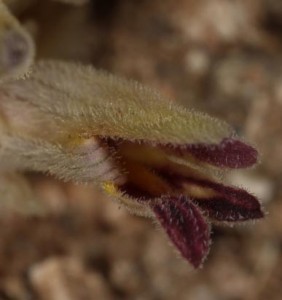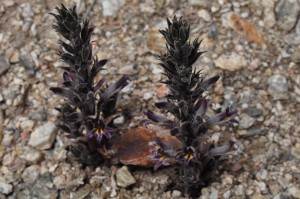 A close-up of one of its flowers
Two of the many we saw on Soldier Trail
Among the most spectacular plants now is the "Indigo Bush", Dalea pulchra. This time of year the plant is covered with deep blue or even purple flowers. And the bees and other insects love it.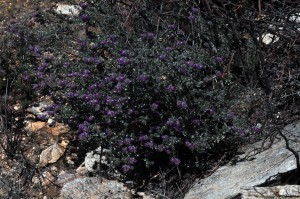 Indigo Bush
There is a fairly common low growing plant imported from Europe called "Filaree" or "Heron's Bill", (Erodium cicutarium). It has the ability to drill its own seeds into the ground. Long ago I learned of a  native Erodium, called "Texas Geranium" or "Stork's Bill" (Erodium Texanum) and for years I have been trying to find it. This was my lucky month. I found quite a few on the Babat Do'ag trail, and then noticed it growing in our church parking lot!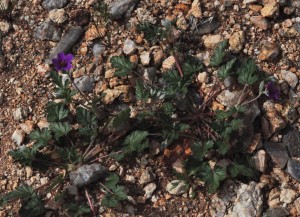 Texas Geranium plant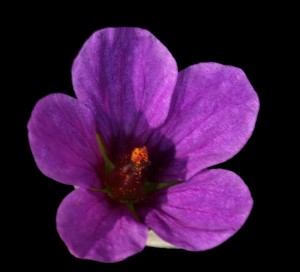 A close-up of the flower
Since I began working on "Invisible Flowers" I have become interested in the Euphorbia family. Many of its genera and species are low growing  plants with small flowers. In particular there are a half a dozen or more euphorbias called "spurges" in this area. I have been trying to learn to how tell them apart. Today Jim told me that while many spurges have single flowers at the end of each stalk, one has flowers growing in a little cluster. It is called Euphorbia capitellata (meaning "having a little head"). I find its tiny flowers quite charming.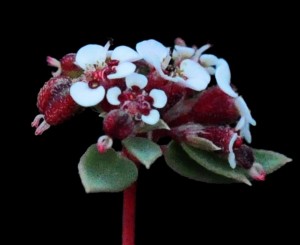 The flowering head of this Spurge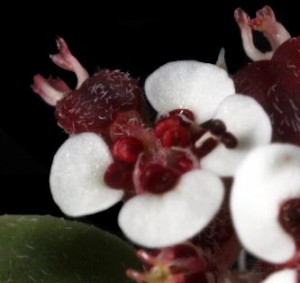 One of the many flowers in the head