I grew up in suburban Philadelphia. and remember hearing references to Arbutus, a city in Maryland, north of Washington DC. In learning the plants of southern Arizona I was pleased to find that this is the botanical name of a very beautiful tree. The common name is Madrone (from a Spanish word meaning "Strawberry Tree". It is a member of the Heather family (Ericaceae). Botanists call the species in this area, Arbutus arizonica. Recently hiking at 7000 feet, Steve and I saw one with a very wide, blackened trunk. I have read that it can grow for over two hundred years, and this one seemed to fit with that time line having been severely burnt at some time in its life, but still flourishing.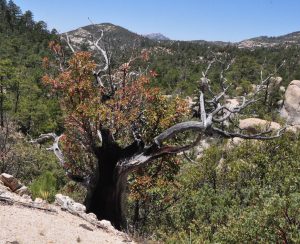 As an evergreen it keeps its leaves all year, but in June a significant number turn a beautiful red, as in this picture. This makes it easy to spot driving up the mountain.
The ones we saw at the end of May had white flowers, like little bottles. The bark is also red. In a few weeks it will support a full crop of beautiful red berries.